As promised, I have my first set of reviews for the Wet n Wild I hauled earlier this week. First the Color Icon palettes. I'm only going to be reviewing one for now: Vanity #249 (far left below).
I'm fairly impressed with the packaging Wet n Wild has put together for these palettes. They have a history of making quite bulky palettes. Namely the Ultimate Expressions (which according to sources is getting discontinued) palettes. Large, unwieldy with a pull out mirror on the bottom? Even though we ultimately "lose" 2 shades, I much prefer the slim new Color Icons.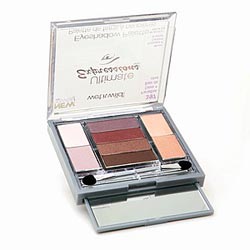 Much much much easier to fit into my overflowing packed excellent selection of an eyeshadow palette drawer! These new palette contain 3 matte shades and 3 'effect' shades. Now a word about the 'effect' shades. In this particular palette, they are metallic but have no visible and/or chunky glitter. In the other 2 palettes I hauled, there is one 'effect' shade in each palette which obviously has glitter.
Each palette has an example look on the back. Unfortunately, I hope buyers of this palette don't follow this one, because the line for the brow bone is quite low and appears to be closer to the crease? And the eyelid line is point towards the actual eye itself! Oops.
These probably look the same to you but since they are at slightly different angles, I thought I would include them both. Obviously the matte shades are on top and the 'effect' shades are on the bottom. I actually applied all of these shades with the included brush! I did not use a sponge applicator (which tends to give the most color pay off). This is on my hand, with no primer or anything. I was quite impressed with the pigmentation of these shadows, especially the 'effect' shades. Though they are a touch warmer than I usually wear, they are shimmery, non glittery metallic shades that would probably suit many and they are not crumbly or powdery, just soft enough to pick up the pigment.
My only complaint is that the matte shades are a touch powdery. There is a bit of powder that is left on the eyeshadow itself after you pick it up from the brush and then it goes on a bit less smoother than the shimmer shades (if you enlarge the picture below, it's especially apparent on the darkest matte shade). Of course, some of my favorite high end brands do this as well (Stila is perhaps the worst offender but I love the brand anyway) and for the price (only $4.99 compared to upwards of $20 for 1 shade??!), I am not complaining.
Have you tried one of the new Color Icon palettes? What did you think?